Durable, Stackable, Sustainable
Boxes that are Eco-friendly,
Time Saving and Affordable!
Our boxes are uniform and easy to pack and stack into your moving vehicle. Our boxes are made of sturdy plastic so you can pack your fragile items and have no concerns of the boxes being crushed. With lockable and water resistant lids, be assured your items will be secure and dry when you are forced to move on those rainy or snowy days.
Even though cardboard is recyclable, you can only use cardboard boxes about three times. Our plastic boxes can be used then re-used hundreds of times before they need to be replaced; therefore, they are an Eco-friendly solution. Cardboard boxes can absorb dirt, bacteria and other things you really don't want in your stuff. We clean and sanitize our boxes after every use, so you can be assured you are receiving clean, bacteria free boxes every time.
Our drop off and pickup service eliminates the need to drive all over the city searching for boxes, picking up boxes and disposing of the boxes.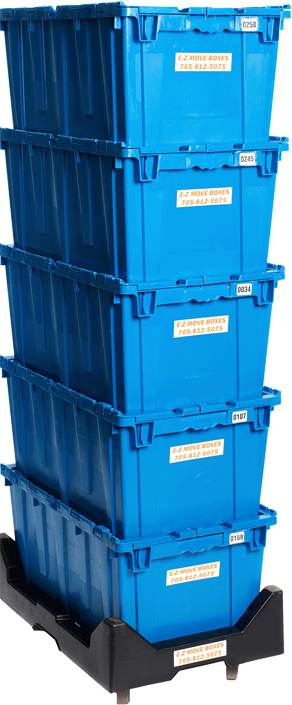 At E-Z Move we specialize in both residential and business moves. Our moving boxes are ideal for any kind of move you have in mind!
Use E-Z move boxes to prepare your home to sell, de-clutter and allow buyers to see the full potential your home has to offer.
Our stackable and securable boxes save you space and make the move a breeze!
STUDENTS – Going home for the summer? Pack your stuff, store for the summer, move back to your residence for the start of the fall semester then we pickup the boxes!
Stay tuned, will soon be offering secure storage facility and delivery.
Remodeling & Construction
Protect belongings from dirt and the other occupational hazards of construction.
Our durable and stackable boxes create more space to complete the job safely. Make your home more liveable during construction, no need to cram furniture into your garage or basement and risk damage to your belongings.
Business Moves or Renovations
The use of E-Z Boxes will minimize business downtime and provide a quick, efficient and Eco-friendly solution for moving or renovating your office.
Can schedule delivery and pick up of our boxes after hours or weekends to minimize disruptions of business activities.
Designed to accommodate legal and standard sized file folders.
Stackable therefore taking up less office space during packing and in the moving truck.
During renovations store your office material in our dust resistant E-Z Move Boxes.
Dollies are used to easily move the boxes resulting in less time to pack/unpack the moving truck.
Offers and Eco-friendly solution for your office move or renovation.
We would be pleased to assist you with your upcoming office move.