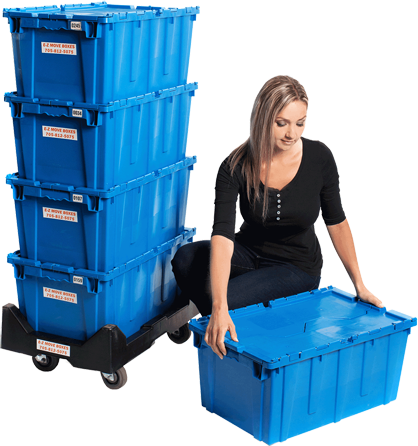 Are you really cheaper than cardboard?
Used moving boxes are a more sustainable solution than buying new. However, cardboard moving boxes absorb lots of dirt, bacteria and other things you really don't want on your stuff. Each E-Z Move Box is made of plastic and is thoroughly cleaned after each use. The additional tremendous value of E-Z Move Boxes is that you not only save money, you will realize hours of time savings. An average person will take 3-6 hours to find, deliver and fold and tape their cardboard boxes. And then they still have to dispose of them when they are done. Our E-Z Move Boxes are more affordable than cardboard and they are delivered to your door, saving time, money, AND environment.
With our plastic boxes you will also realize the following benefits;
Water and mildew resistant
Move when it is raining without worry
Stackable, without worrying about crushing your valuable items
Rodent Resistant
Ability to secure with zip ties, which we can provide.
Why not raid retail stores?
We ask, WHY drive from retail store to retail store? E-Z Move Boxes was started by good folks like you who used to find their moving boxes by driving all over Barrie. And believe us, driving around strip malls, retail and grocery stores collecting random sizes of boxes with unidentified ooze and rips across them, and stuffing these into your car on multiple trips back and forth to home….well, let's just say that renting E-Z Move Boxes, is a very convenient and affordable alternative to the hassles of raiding retail stores.
Isn't reusing cardboard moving boxes green also?
Reusing cardboard moving boxes is green. A light shade of green. Cardboard moving boxes only last 3 times before they have become too abused to use any longer. Our E-Z Move Boxes last hundreds of times, and are made from recycled plastic and are recycled once again after several hundred moves. Using E-Z Move Boxes also eliminates the need for tape and other non recyclable products. Renting E-Z Move Boxes reduces solid waste per move by over 70%. In a nutshell, every house that moves with E-Z Move Boxes versus cardboard moving boxes, saves almost an entire tree!
We accept payment upon delivery of our E-Z Move Boxes. We accept debit, Visa & Mastercard on our mobile terminals.
Can I keep the boxes for longer, if I need to?
Yes! Simply call us at least 2 days prior to the scheduled pick-up, and let us know how much longer you will need the moving boxes for. We will charge you the extra time by the day or by the week, whichever works out to be cheaper for you. If you have completed your move sooner than expected and want to return the moving boxes early, please call us as soon as possible to reschedule a pick-up. We will charge a minimum of 1 week and then recalculate your bill according to the days you may have used in addition to this.
We deliver our E-Z Move Boxes anywhere in Simcoe County Area. Delivery is free of charge for any home packing bundle order. If you live outside our delilvery area, don't worry, we will work out an affordable option for you, just give us a call.
How big are your moving boxes?
Our E-Z Move Boxes are 27 inches by 17 inches by 12 inches. This is just over 3 cubic feet. This is about the same size as a standard medium moving box. Our wardrobe boxes are 12 cubic feet, the same size as standard full height wardrobe boxes.
Do I have to be home to receive the boxes?
We can't deliver our boxes unless you are there to receive them. If we leave a stack of our E-Z Move Boxes on your doorstep, you never know when a jealous neighbor might be tempted to take some and not return them. Same goes for pick-up.
How quick can you deliver the boxes?
Quicker than it'll take you to drive to your nearest cardboard box outlet, and then go back home, fold, tape and prepare several dozen cardboard boxes. We take pride in providing excellent service, we appreciate that you give us 24 hours notice.
What if I need more moving boxes?
Our home packing bundles provide about 25% more moving boxes than a typical household needs. However, if you do run short (kids toys and books take up a lot of space!), we can rent out any number of additional boxes, plus a $25 delivery fee. We can deliver the additional moving boxes to you generally within 12-24hrs of your request.
I only want to rent a few boxes?
We can rent out any number of E-Z Move Boxes. If you need less than 25 boxes, we will charge by the box, plus a $35 delivery fee.
Can I keep / buy some boxes when I am done moving?
Our E-Z Move Boxes are high quality moving boxes, designed to handle hundreds of moves. As such, they are not cost effective to purchase. We know that many customers like to keep some of their belongings in storage long term, just ask us and we would be glad to provide you a long term quote. Please let us know in advance if you would like some of these included in your moving package
What is your cancellation policy?
We request 24 hours notice of cancellation. We prepare your moving boxes the day before your scheduled pick up, and your courtesy is appreciated, to save on our time.
Are you a moving / packing company?
We are not a moving company. We only rent our E-Z Move Boxes. We are able to keep our green moving boxes affordable by focusing on our rental & delivery system. We can however, recommend several reliable and trustworthy moving and packing companies in Simcoe County area.
Will you pack and load the boxes to our new home?
Unfortunately not. We are very busy delivering our E-Z Move Boxes around Simcoe. However, we can provide you with a list of reliable and trustworthy moving companies.
Do you service commercial / office moving?
Yes! Our moving boxes are outfitted with optional file racks to hang your documents in, and the virtually indestructible nature of our moving boxes, ensures they will never get damaged or dented or wet. Not to mention you can secure the private documents with our lockable ties
Why should I choose E-Z Move Box?
E-Z Move Boxes is more than a business. We are a movement towards change. Change to cut back on the waste of cardboard boxes going to our landfills. With our moving boxes priced at affordable rates, we want to help you, help the environment. Cardboard moving boxes have been used for decades. The world has moved ahead, but our moving boxes haven't. It's time for change the way it moves. Ordering an E-Z Move Boxes package is a vote for a greener tomorrow!
Are the plastic moving boxes clean when I get them?
We wouldn't have it any other way. Our green plastic moving boxes are thoroughly washed after every use. Anything less would be uncivilized. A green moving box is a clean moving box.
Do you deliver your moving boxes outside of Simcoe County?
Yes. We also deliver our E-Z Move Boxes to alternate locations. We do however, request to let us know before you place your order. This way we can confirm that we service the area in question and to note that a surcharge will apply.
Is E-Z Move Boxes a local business?
Correct. We are not a franchise. We were conceived and operate in Barrie and service the Simcoe County area. Simcoe is a great area to live and play, and we want to bring our green moving boxes to your home. When you choose E-Z Move Boxes, we will give back 1% of our profits to support local organizations.
I'm renovating/staging my home and need to store my belongings for a few weeks, can you help?
Certainly. You don't need to be moving anywhere in Simcoe County to need E-Z Move Boxes. If you just want to store some belongings short term, our E-Z Move Boxes are perfect.
Are E-Z Move Boxes the same kind that they use in corporate & office moves?
Almost. Our moving boxes are essentially the same as the plastic bins used in office moves. The main difference is that our bins are lighter (and easier to lift) than the standard large moving company plastic bins.